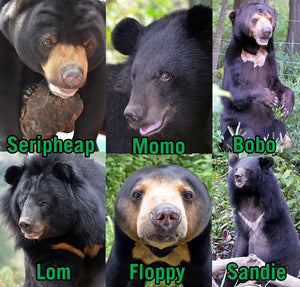 Thank you for sponsoring a bear with Free the Bears. As you probably know, we're very proud to have helped rescue over 950 bears. Without your help, this would not have been possible. Due to the condition of the bears we rescue and the countries in which we work, almost all of our rescued bears require lifelong care at our sanctuaries, which can last up to 40 years.
Many of our bears have been sponsored over the years - some of them appear here. If you have sponsored a bear in the past, we'd very much appreciate it if you would continue to help provide support to your furry child.
Don't worry, we'll know for which bear you are renewing sponsorship from past correspondence (although it would help if you can include the name of your bear in the notes section of the checkout). If you sponsor more than one bear and would like to renew for all, please place an order on this page SEPARATELY for EACH of your sponsored bears (i.e. you'll need to visit this page and complete the sponsorship for one bear at a time, apologies in advance for any inconvenience).
You can choose to renew your sponsorship for each bear for either 6 months or a year. Or better still, sign up for monthly or annual recurring payments to help ensure we receive sponsorship funds throughout the year to coincide with the needs of the bears (it also helps simplify our administration - we are a very small team and need all the help technology can bring).
Please note: If you select the monthly payment option, the signup form will show AUD$35 monthly charge HOWEVER this will be converted to your local currency when charged to you. AUD$35 is approximately USD$25 or approximately GBP£19 or approximately EUR€21, as at September 2020. Monthly sponsorship contributions will be deducted automatically and you are able to cancel at any time by logging onto your account. If you are a recurring sponsor and need to update your Payment Method, LOGIN here, select PAYMENT METHODS & CHOOSE ANOTHER WAY TO PAY.
Many thanks and a huge bear hug for sponsoring a bear/s and supporting Free the Bears. Securing funding for the care and ongoing support of our rescued bears is one of the most difficult tasks we face - your sponsorship is incredibly important to us. We'll do our best to send you updates about your sponsored bear/s when we can (please bear with us, excuse the pun, we're a small team working as hard as we can).