Mary Hutton registered Free the Bears in 1995. Since this time she's helped rescue over 950 bears, helped end the centuries old Indian dancing bear tradition and built rescued bear sanctuaries in 3 countries
Our Cambodia sanctuary, the world's largest sun bear sanctuary, is also a world leader in cub care
We work with government partners to rescue, research and protect vulnerable bear species
Our Support Groups, Education & Volunteer programmes help raise awareness and much-needed funds
To help end bear bile farming & help more bears (& other wildlife), we're expanding our sanctuaries
Mary Hutton registered Free the Bears in 1995. Since this time she's helped rescue over 950 bears, helped end the centuries old Indian dancing bear tradition and built rescued bear sanctuaries in 3 countries
Our Cambodia sanctuary, the world's largest sun bear sanctuary, is also a world leader in cub care
We work with government partners to rescue, research and protect vulnerable bear species
Our Support Groups, Education & Volunteer programmes help raise awareness and much-needed funds
GET INVOLVED
Send a Gift to a Rescued Bear (dedicate it to a loved one & send them an e-card at the same time)
2024 Wall calendar

Regular price

Sale price

$14.00

Cub Care Kit donation

Regular price

Sale price

$24.00

Enrichment mix donation

Regular price

Sale price

$11.00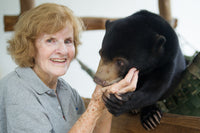 Over 950 bears rescued!
When Perth grandmother Mary Hutton learnt of moon bears suffering in bile farms, she formed Free the Bears, helping rescue & rehabilitate over 950 bears as well as protect wild bears. Just like our founder Mary Hutton, you can make a difference. Did you know? #MaryTheSunBear from #BearsAboutTheHouse is named in honour of Mary Hutton. 
Visit our sanctuaries, donate, sponsor a rescued bear or join our support groups to help raise awareness & funds. 
Please help us make up for the suffering these beautiful creatures have endured. Thank you.
DONATE TO HELP